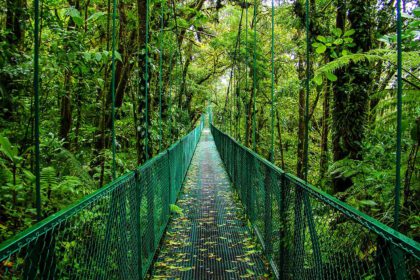 Nestled up in the Costa Rican highlands that overlook the impressive Gulf of Nicoya on the Pacific Coast, you will find a verdant gem in the form of a quaint, alternative living town called Monteverde.  This small picturesque mountain top village is home to beautiful nature reserves that protect the Cloud Rainforest.  Here are five amazing activities to live the Monteverde experience.
Did you know that Monteverde in Costa Rica boasts 2.5% of the world's biodiversity? Throw in some eco-adventure, picturesque views and some great food and this is fun!  It is a must to visit this amazing little mountain top star that has kept its treasured essence and defeated progress but in a really great way! 
Getting to Monteverde
The journey to Monteverde is part of the adventure, especially if you are coming from the majestic Arenal Volcano.  Faro Travel offers daily transport from the Arenal so be prepared for some fun! 
After a jeep ride from your hotel to the Arenal Lake, you will then embark on a boat ride across this man-made yet beautiful lake where you can sit back and inhale the rolling, green mountains that embrace it. You will also not lose from sight the breathtaking volcano that silently accompanies you to the other side.
Then, back into a jeep and up you will go into the mountains, through the dense rainforest which will prepare you for the beauty of what awaits you when you reach Monteverde.
Let`s remember that Monteverde is more than 4500 feet above sea level and the ride up into the mountain range is full of green vegetation, windy roads that hug the mountain and the most amazing views of the Pacific Ocean and Gulf of Nicoya. Stops along the way for lots of panoramic photo ops are part of the journey so keep your phone, camera, and binoculars handy.  
Ziplining
For the faint-hearted but adventurous spirited alike, Monteverde doesn`t disappoint. Choose from a number of great zip lining rides through the rainforest canopy.  One of the cables is 1.2 miles long which makes it one of the longest and one of the highest in the region.  
Depending on the zip line adventure you decide upon as there are a few, some also have further adventures that keep you soaring and with your feet off the ground! How about the famous Tarzan rope swing that will fly you 150 feet up into the air and take your breath away as you go up and as you come down!?  
Another superhero adventure in the sky is the Superman zip line that means you go headfirst through the rainforest canopy as if you were flying like a bird or like a plane. This is adrenaline rush action from start to finish and you will love it!
Everything that goes up must come down and what better way back to planet earth than rappelling down a forest tree to the jungle floor.  Even this is exhilarating and will keep your energy at peak levels!
Hiking through the Cloud Rainforest
For those that like their feet safely on the forest floor, Monteverde is the perfect place to do some wholesome hiking in one of the reserves. Here is when you will truly hear, feel and see the cloud rainforest. This is sensorial and where you immerse yourself into the diverse tropical vegetation and the misty surrounds. 
Monteverde was founded by a group of Quakers, pacifists and conscientious objectors in the 50`s escaping the Korean war. They decided to set up camp in Monteverde thanks to its cooler climate and fertile soils that offered the perfect combination to begin dairy farming.  They also became protectors of the surrounding areas much of which later became the Monteverde Cloud Forest Reserve.
So delight yourself in a number of walks and hikes through the clouds and the lushness of the rainforest and be in awe of its beauty.   Observing the wealth of flora and fauna is amazing including orchids, insects, the elusive yet magnificent Quetzal and many other endemic or migratory birds that make Monteverde their home temporarily or permanently.
Coffee
Rich volcanic soil, the perfect altitude, and weather proved to be perfect for coffee plantations and Monteverde coffee is top quality.  This is organic coffee farming at its best so not only is it rich in flavor, but it is also sustainable so it tastes even better!
Faro Tours will take you into the world of coffee during your stay at Monteverde, which is one of the 8 eight top coffee-producing zones in Costa Rica.
Coffee has been a part of Costa Rica for centuries and continues to be an important part of the Costa Rican way of life for many farmers and rural habitants.  This great tour will also include a visit into rural life when you will be invited into a local farmer's home for a freshly brewed cup of coffee and some homemade treats to accompany your golden bean.
Night Tour
The rainforest awakens and alive during the night hours more than during the day so why not do a night tour and observe animals that were sleeping while you explored the forest earlier on.   They say about 60% of tropical wildlife is nocturnal so put your hiking boots back on just around 5:30 pm and discover the magic of the rainforest after dark.
The nocturnal residents of the rainforest include lots of mammals like the Armadillo, Coati, Agouti and even a cat like the Ocelot.   They prefer the protection of the darkness to rummage for dinner.
And let`s not forget the colorful frogs and insects that will be your rainforest symphony for the evening.  Frogs can be found on the forest floor and in the trees so keep your eyes open as they are small but boast beautiful near-fluorescent shades of green, black, reds or blues.
Faro Tours looks forward to hearing from you to organize some dates to visit Monteverde and Costa Rica. With great knowledge, modern transportation and excellent service, you are in the perfect hands during your stay in beautiful Costa Rica. See you soon!